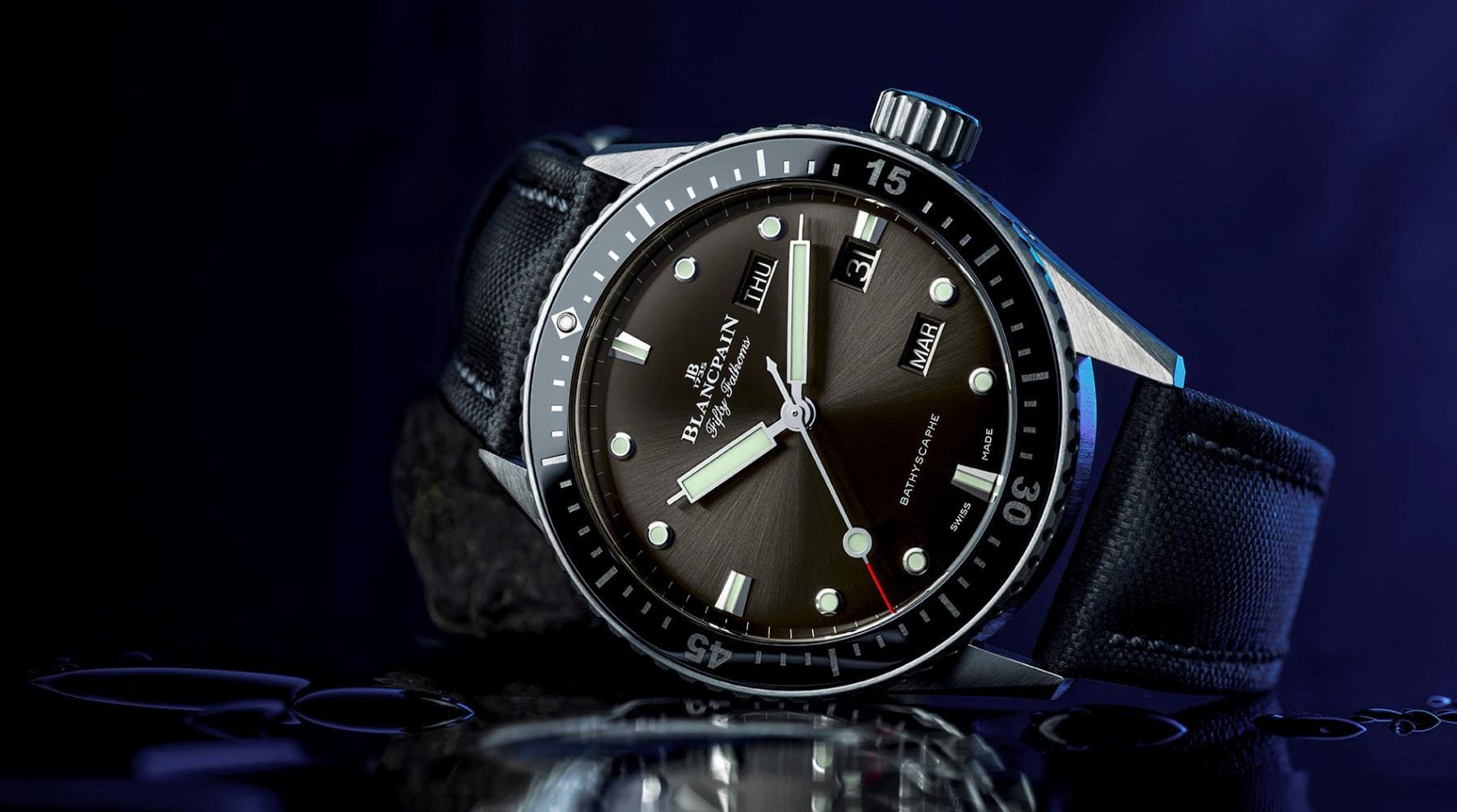 Blancpain luxury watches honor their centuries-old credo, a promise to never produce quartz watches. Insofar, Blancpain abides by its creed. Blancpain is dedicated to crafting timepiece collections that embody the finest in Haute Horlogerie. Blancpain is the oldest luxury watch brand in the world and combines historical mechanical movement with a timeless artistic design. On the global stage, Blancpain timepieces are considered one of the best divers watches. Trying to find Blancpain watches for sale can be challenging when you do not have help. If you are looking for the best place to buy Blancpain watches, Exquisite Timepieces is a Blancpain authorized dealer.
Get a FREE Watch Winder with your purchase of selected Blancpain watches over $2,000. Terms & Conditions »
Brand Review: Blancpain - The Pioneer of Luxury Watches
Wearing a Blancpain is like placing luxury watch history on your wrist. A true pioneer, Blancpain is actually the oldest luxury watch brand in the world, dating back to 18th century Switzerland.
Blancpain watches have evolved from the home-based workshop of Jehan-Jacques Blancpain, the founding father of the company. Since 1735 (nearly 284 years ago), every Blancpain watch is exclusively handcrafted by a skilled watchmaker in Switzerland.
There's much more to this marvellous watchmaker, that you must know before you buy one. Let's look at Blancpain price, collections and why it'll compliment your taste of luxury!
Blancpain - Why it deserves to be your next watch?
Maintaining its luxury watch tradition, Blancpain is known for never compromising on its quality! For instance, while many brands today have shifted to Quartz crystal, which is cheaper and easily available, Blancpain has earnestly preserved its original mechanical movement. Blancpain proudly claims, Blancpain has never made a quartz watch and never will, which ensures its customers that they're buying only the finest.
More so, it's exciting to know that till date every Blancpain watch is handmade in some form.
Blancpain - Art Lovers Delight
Blancpain creates watches that reflect timeless art in their designs. The latest Métiers d'Art series offers art lovers a special reason to fall for Blancpain watches.
The Blancpain Binchotan features a Japanese arch set in the dial charismatically with great precision, whereas the Shakudo 3615 has the Indian god Ganesha embedded into the dial. The watches prove time and again that you're embracing a piece of art, and not merely a time-teller!
Blancpain - Amongst the top luxury watch brands
Blancpain is among the top brands that were exclusively made a part of the recently held biggest Watch Show in New York. It shared the limelight with other luxury brands such as Omega, A. Lange & Söhne etc.
At the same time, Blancpain is also among the world's top 5 brands for diver watches. The Blancpain fifty fathoms watch has a separate fan following, being a world first in reliable scuba diver watches. Same is the case for Blancpain GT and Blancpain Air command.
Blancpain - Pioneer of the Watch Craft
Blancpain emerged around the time when luxury watch markets were taking shape and since its inception, it has held several inventions to its name. From creating the famous "cylinder escapement", a true revolution in the watchmaking industry to the world's one-minute flying carousel, Blancpain has done it all.
Blancpain Watch Collections
Blancpain Villeret Watch Collection
Villeret takes inspiration from archaic aesthetic traditions set by the founders of Blancpain. It's distinguished by sleek lines, clear dials and the fine double-stepped cases. The collection also offers unique features such as protected calendar and moon-phase mechanisms and durable power reserves.
The price of this series starts at an excess of $10,000 and goes upwards of $300,000. The Blancpain Villeret Carrousel Répétition Minutes is price at $397,789, sharing space with the most expensive of watches ever made.
Blancpain Fifty Fathoms Watch Collection
Blancpain 50 fathoms is a remarkable collection first featured in 1953 when it took underwater exploration community by a storm. Often termed as the best scuba diver watch collection, Blancpain fifty fathoms bathyscaphe is a wonder of its own accord. Part of Blancpain 2019 releases, the newest models such as Blancpain aqualung offer even more reliability and have been tested underwater for long exposures. For the collector, this watch has a number of records to boast off.
Blancpain fifty fathoms begins at around $9,000 and lies in the range of $25,000 to $30,000. All fifty fathoms have 300m water resistance and Sapphire glass to protect its innards.
Blancpain Women Watch Collection
Blancpain USA Women collection beautifully celebrates femininity with jewels, crowns and glamorous dials made with love for the ladies. The collection rolled out in the 1930's and has ever since created the most charming watches for women.
You can get customizable straps and rings with moon-phase variants adapted from Villeret collection. The average price for the collection meanders between $10,000 to $30,000 bracket, while some models touch the $100,000 mark.
Blancpain Métiers d'Art Watch Collection
As mentioned before, the Métiers d'Art series offers some of the most artistically pleasing timepieces. The watches are inspired by traditional art from around the world, offering some real head-turners for you!
These watches go the extra mile to commemorate historical figures of art, primarily from Japan, China and India - the epicentres of cultural diversity. Being heavily priced, the range starts at $43,000 and proudly claims the $200,000 price point.