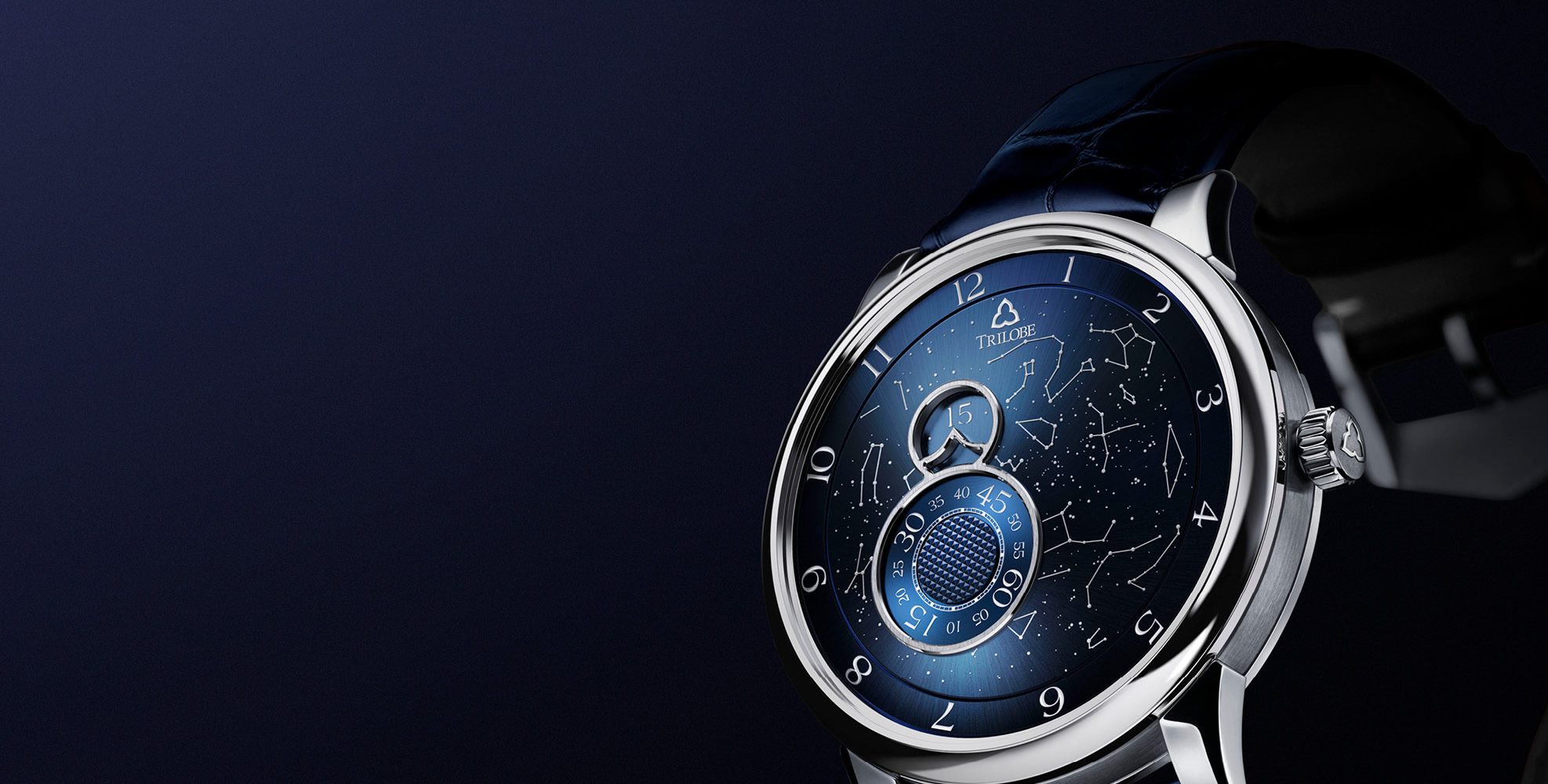 There are no absolutes! Time has been passing through the hour and minute hands for 7 centuries. No need to look at hands anymore: the Trilobe watch is pointing to a new pole, enhanced with nonconformity and jostling encounters. The watch leaves time travelling along its own path and reinventing its wheel. Thus a new classic is born, hands less, but with a sprinkle of magic!
Get a FREE Watch Winder with your purchase of selected Trilobe watches over $2,000. Terms & Conditions »
What Makes Trilobe Watches So Revolutionary
Discover what sets the watchmaker apart from other brands and their approach to the industry The most interesting initiative of this generation, Trilobe, a French brand, has taken the three pillars of time (hours, minutes, and seconds) quite literally and has presented the world with their intuitive designs - revolutionized design of watches with three rotating rings. The largest one for hours, the middle one for minutes, and the smallest one for seconds. All this came into existence with the French design and Swiss watchmaking experts working hand in hand. This out-of-the-box idea was brought to light by Gautier Massonneau- the founder of the brand.
By the sound of it, one thinks it might be a mess, but this architectural inspiration is aesthetically pleasing and complements all kinds of looks. Not caring about the traditions and being bold with their designs with a meaningful origin to every collection of theirs, Trilobe seems to be the rising star in the world of watches.
Let's look more into the eccentric watchmaking concept.
How Much Do Trilobe Watches Cost?
Trilobe watches can be a bit pricey, even by industry standards, yet watch aficionados have been paying the price for these pieces for years despite the expense. Most Trilobe watches are under about $9,000 USD dollars retail - these are the cheapest Trilobe watches. But special designs like the Nuit-Fantastique in its standard model are $10,000 USD whereas the Nuit-Fantastique with secret dial is 13,000 USD. The range of price also varies depending on the model and modifications you make, all of which come down to personal preference. You can either get a plain watch with three rings which are the cheapest Trilobe watches. Alternatively, you can get one with a background constellation design which is more on the expensive side due to the extra effort put into the style of the watch. Trilobe price lists are fixed and don't change with the changing economy.
While purchasing, you can also get the option to choose from three different sorts of straps. Though that doesn't have much impact on the price, it still makes the watch aesthetically pleasing.
Most Popular Trilobe Watches with Prices
In the Trilobe watches for men following collections are worth mentioning. All these Trilobe watches are for sale and worth giving a try.
Watch Name
Price
Une-Folle-Journee
$21,700 USD
Secret
$13,560 USD
Nuit-Fantastique
$10,560 USD
Les-Matinaux
$7,320 USD
Present Day Trilobe Watches
This present year has been a banner year of triumph and events for Trilobe. From dressing in green to appearing in two-tone and unveiling its third collection Trilobe has left no stone unturned. Earlier this year, in March Trilobe presented its customers with the new collection Une Folle Journée, which was an ultimate success.
Then later on in May, it decided to bring on a collaboration. It was a fine collaboration uniting the two finest craftsmen. Trilobe shook hands with Fabric Ausset to appear in watches and wonders 2022. It was a live example of challenging the untouchable and pushing boundaries that resonated with watch enthusiasts and critics alike. The two together presented a new way to read time and a more instinctive way of sitting.
To the excitement of its customers, Trilobe in June unveiled two new styles. Nuit Fantastique Dune, a watch with an illusion of sand sitting on its dial, dune colored and embodiment of the purity of Trilobe's design.
Trilobe didn't stop here and instead decided to go further. They decided to dress in green, and the color of controversy was seen by many as an elegant statement. Combining its night dial with emerald green embedded in titanium, a fine piece came into existence - the Nuit Fantastique Green.
The latest achievement of Trilobe happens to be the Geneva Watch days. The watch show started on August 29th, 2022 and came to an end on September 1st, 2022. Four days of the watch show exhibited 20 brands. The exhibition was open to the public along with public events in the daytime and special events at night for the brands and their special guests. This exhibit was visited by consumers from all over the world, all of which were eager to take in the latest designs and improvements from previous collections. Trilobe models were displayed at the pavilion for the public. And, in the eyes of many in attendance, the show was a rousing success. Even though Trilobe didn't present any new collection on the show, they did announce that there is something intricate and elaborate on the way very soon! This exciting news was enough to satiate their ardent fans.
Less Known Facts About Trilobe Watches
Trilobe began as an idea in 2013 and came into existence in 2018, making its debut with Les Matinaux. The son of a French interior designer and architect, Gautier Massonneau decided to break traditions and free the world from the old-school ways of making watches. He opted for an unconventional way of depicting time without a minute and hour hands but rather three lobes. Initially, there was pushback for his ideas, but now he is viewed as a worthy addition to the industry which has resulted in other brands recalibrating their own collections to keep pace.
By definition, Trilobe means anything that has three lobes, for example, a three-leaf clover. So the name represents the idea, three lobes presenting three pillars of time - hours, minutes, and seconds. Gautier Massonneau gave the inside scoop on the early days of Trilobe, saying there had been a plan for ten years of the collection while taking steps towards a creative, poetic, and audacious direction. He also mentioned once that Les Matinaux, without any doubt, is the best model that describes Trilobe.
Over the past few years, Trilobe has presented the world with many collections. Let's take a quick look at what Trilobe, being a 100% independent brand, has to offer to its customers.
Trilobe Les Matinaux
It is kind of an original to Trilobe. This debut watch is available in a variety of colors, straps, and materials. Made exquisitely in 8 dial colors and four different straps with a poetic french touch, it is more like a Trilobe entry-level watch.
| Color | Strap |
| --- | --- |
| Rose gold and sunray gray | Chocolate colored straps |
| Steel and sunray carmine | Beige suede straps |
| Blue and sunray blue | Blue suede straps |
| Rose gold and sunray silver | Chocolate alligator strap |
Les Matinaux means 'the morning ones' in french. This is a reference to the poem collection of the great poet René Char. This poetic piece looks elegant on every wrist though reading time on it might be puzzling at first; soon, one gets used to it. It comes in dial sizes 40.5 mm in diameter and 38.5 mm in diameter, which is a more compact version.
This piece of art came into existence with the help of two brilliant minds in the world of watchmakers, Chronode's Jean-François Mojon, who helped with the display of the watch, and Le Cercle des Horlogers, who helped with the mechanical movements of the watch. Though this idea was new and revolutionary, it still became a success in no time.
Trilobe Nuit-Fantastique
The Nuit-Fantastique has a sleek design with a minimalist approach. It comes in 4 colors: silver, black, blue and green. It also presents three editions: divine, Havana, and secret. Available in steel and rose gold cases. The dial of the Nuit-Fantastique collection ranges from 40.5 mm to 38.5 mm, with the rose gold edition having a dial diameter of 40.5mm. The off-center display appears as a figure eight with its minutes and seconds lobe fused. Figure eight is framed with the same material as the case of the watch and is in a satin finish. The case is available in two diameters to appeal to a wider range of wrists. The small diameter case has a pushdown crown to set hours and minutes, while the larger dial has a screw-down crown for setting hours and minutes.
The stainless model is approximately $8,300 USD, but the rose gold edition is quite expensive, being around $18,000 dollars.
Trilobe Secret Collection
Trilobe has two watches under its secret collection. One is the Les Matinaux Secret, and the other is the Nuit-Fantastique Secret. The Les Matinaux Secret watch is quite fascinating as it presents the secret of the soul as a story in the watch. The background of the watch pictures a starry sky pointing towards a specific point in life. The Nuit-Fantastique Secret also has the same starry background. Both come in the color blue. The Nuit-Fantastique is around $12,500 USD whereas Les Matinaux is a bit expensive, priced at about $23,500 USD.
Trilobe Une-Folle Journee
Une-Folle Journee carrying on the original idea is a bit more complex, more technical, and more on the modern side. The original design has flat discs laying on the surface of the watch. In contrast, Une-Folle Journee has more of a 3-D design with lobes floating over the base. The base of Une-Folle Journee gives a view of the underlying mechanics. It has a domed appearance overall. With such a complicated design, one thinks it might be heavy, but in reality, to keep it lightweight, the complete watch is made in titanium. The diameter of the dial is 40.5 mm, and it has a matching alligator strap available in two colors, black and blue. We can say it is one of the most expensive watches of Trilobe, at about $21,000 USD. This is the latest collection of Trilobe and has been set to be launched after two weeks of Geneva Watch Shows 2022.
Design And Technical Specs
Manufacturing these extraordinary watches withholds tons of research and months of effort. Trilobe watches are technically advanced and up to date with x-centric caliber. They present self-winding movement with a micro rotator and 48-hour power reserve. Hours, minutes, and seconds are represented by three rotating rings either flat on the base or floating in the air attached to the case. The Trilobe watches are water resistant and tested at 5 bar pressure. The strap comes in a variety and is closed with the help of a pin buckle. All watches have different dial diameters ranging from 38.5mm to 40.5mm. The three-ring design with the largest represents hours, the middle one represents minutes, and the small one represents seconds. The three rings move together in the anti-clockwise direction without overlapping with each other. Trilobe has made its watches beautiful on the front and back both. The front presents more light themes, whereas the reverse sides are more on deeper and more in-depth shades. The dial is present on the front, and the x-centric caliber is part of the back. The micro rotator of the watch is made of tungsten. Sharp edges, with brass electroplated bridges and plates along with beveled wheels in steel, provide immense balance, with a frequency of 28,800vph (4 Hz).
Reading Time on a Trilobe
It seems a bit complex, and at first, you might struggle to read time, but once you get hold of it, nothing is going to be easier than reading time on Trilobe. The intricacy and attention to the finest of details is what makes the brand popular with watch enthusiasts and sets it apart from other brands in the industry. In between the three rings are three-pointers in the shape of a trefoil. The trefoil below the hour ring has its pointing edge directing toward the number on the hour ring representing what hour it is. The same goes for the minutes and seconds. The trefoil for minutes is above the minute ring and the trefoil for seconds is above the second's ring. It is all a matter of time and practice, and you'll be able to read the time on Trilobe just fine. Trilobe, with its revolutionary designs, is quite popular these days among youngsters and the elites. For an intricate watch that is as much a statement in style and substance, there are few that can match what Trilobe brings to the table.